"Our care of the child should be governed, not by the desire to make him learn things, but by the endeavor always to keep burning within him that light which is called intelligence." – Maria Montessori
Laura Maheux – Assistant Director 
 Laura grew up in New England, but spent most of her adult life in Colorado. She moved to Montana recently and looks forward to form a warm, fun, and adventurous community in her family's new home.
She enjoys reading, gardening, cooking, and yoga. She also enjoys a handful of outdoor adventure sports. After college she hiked most of the Appalachian Trail.
She earned a degree in Art and K-12 Education and then a Masters Degree in educational Psychology & Early Childhood Development. Her favorite parts this career are enjoying aspects of nature and art with children. She approaches her work as a service towards not only children, but the family as a whole.
Lori Martin – Infant & Toddler Guide
Miss Lori joined the explore team in August 2021. She has lived in Montana her entire life and has no plans at leaving and we don't blame her. 
She has a few favorites in her life. Working with children, the color purple, and her cat named Sugar.
We are so excited to have Miss Lori with us. She brings a bright, beautiful light in the door every single day.
Emily Kern – Infant & Toddler Guide
Miss Emily joined the team in the spring of 2021 and we've loved having her with us. 
She is a born and raised Montanan just like Miss Lori.
When she's not having an amazing impact on the lives of children, you can find her reading and writing her own books.
If you stop buy while shes working, she will more than likely have a chai tea or coffee in hand.
Jessica Squires – Infant & Toddler Guide
Katie Lira – Infant & Toddler Guide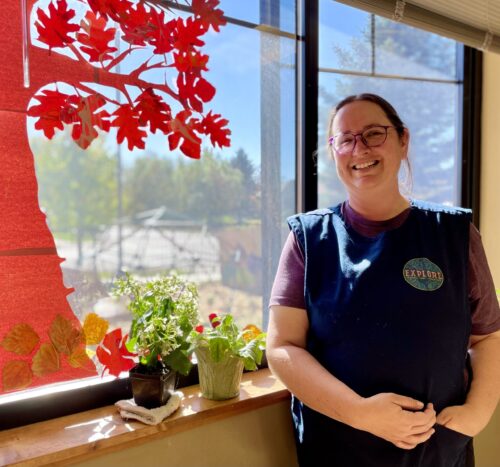 Sarah Smith – Pre-Primary Leed
Marianne Molina – Director and Head of Primary
With a genuine appreciation for the Montessori approach, decades of experience teaching, caring and raising her own children Marianne is thrilled to embark on this new adventure as the Director of Explore Montessori.
Marianne started her training in Child development and psychology when enrolled in high school in Sweden and thereafter worked in different childcare facilities from a maternity ward, caring for the terminally ill to an Antroposophical Institute for mentally handicapped children.
She was briefly introduced to Montessori while working as a nanny for the City of Stockholm. This inspired her to put together simple Montessori lessons for the children in her care. Watching them work and being absorbed by the lessons made a deep impression on Marianne and her love and passion for Montessori education was kindled.
Marianne had a special sense since childhood that she would move to the US sometime and she fulfilled that dream when she came here in her mid twenties. After getting married she and her husband enrolled their firstborn in an infant Montessori program where she also taught. They later settled in Minneapolis where she homeschooled their now five children on and off for 15 years. While still there Marianne worked in a couple of different Montessori schools and started the Age of Montessori Primary Teacher training in 2011. She was the very first student to graduate from AOM in 2014.
The family moved to Montana in 2012 to be closer to nature and the mountains. In 2013 Marianne became the lead teacher in a Montessori Toddler classroom for one year and then the lead for the two to four year olds with up to 22 children and two assistants until the summer of 2019.
Last summer she set up and designed a Montessori  environment in a school in Issaquah, WA  but returned to Montana in the fall to be closer to her family.
Marianne brings her enthusiasm and commitment to Montessori education to create and maintain a genuine Montessori program at Explore Montessori.
Philip Molina – Assistant Primary Guide